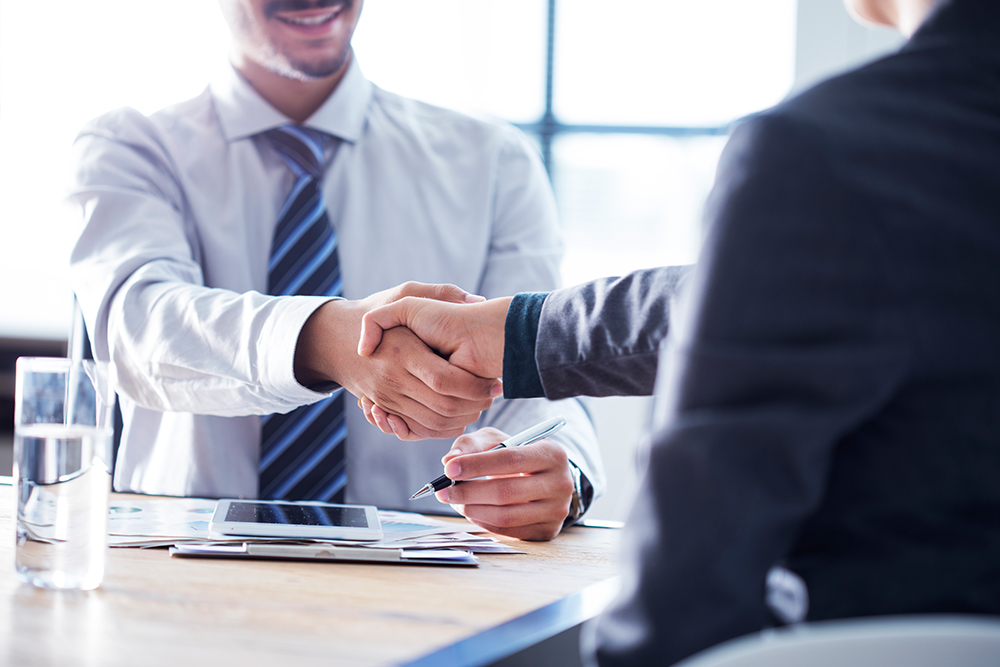 From the raps of Eminem to the lyrics of "Hamilton," there's something about the "one shot" we get to take advantage of an opportunity, to succeed, or to shine. And whether you're Hamilton himself or in this case, a jobseeker navigating a job interview in today's professional world, that really is all you get. One shot.
So how do you make sure you're at your best?
You already know you need to knock a job interviewer's socks off, but it starts before you even walk in the door. You probably looked into the company when you applied for the job, but make sure to do further research several days or, at the very least, the night before your interview. Almost everything you'll need to know is available on a company's website, from an organization's mission and vision, leadership philosophy, customers, products and services, to current projects, and the departments you may be working in or with. It's also a good idea to check out a company's social media and look through the first few pages of a Google search to see where and how the company has been talked about in the news and how the public views the organization.
Once you feel comfortable with your knowledge and understanding of the organization, you'll want to check out your interviewers. And if that information is not given to you, ask for it as soon as possible so you can prepare. Browse that person's social media profiles on LinkedIn, Twitter, and Facebook, and try to find out more about their role, experience and overall personality. This can help to give you a sneak peek at what an interview with this person might be like.
You can never know in advance exactly what questions you'll be asked, but you can prepare yourself by searching the internet for articles and advice about interviewing in this industry, with the specific company, or for the type of job you applied for. Think about questions you've been asked in other job interviews and how you can relate your previous work experience to this role. Ask a mentor, friend, or family member to help by asking you a few interview questions and providing feedback on your answers. You don't want to sound too rehearsed during the interview, but by giving thought and practice to your answers beforehand, you can ensure you sound confident, professional, and well-suited for the job.
You'll also want to come prepared with a few questions of your own to ask the interviewer, and some might pop-up naturally throughout the course of a conversation. Use your questions as an opportunity to show how engaged you are in the interview and that you're taking it seriously. Questions like: "What is it like to work here? Can you give me a deeper understanding of the role you're looking to fill? What challenges or opportunities is the department facing? What personal and professional growth opportunities can be expected in this company?" will help in demonstrating that you're already thinking about your fit and future with this company.
Now, that we've talked about the days leading up to your interview, let's talk the morning of your big opportunity. Start with your closet, which is your key to dressing for success. Typically, a suit and tie (or at least collared dress shirt and slacks) for men and a blouse, blazer, and a long skirt or pants for women is a general rule. Neutral colors such as black, gray, brown, and blue are suitable for both men and women, especially in more conservative settings. Make sure your clothes, shoes, and accessories are clean, pressed, and free from frayed edges, loose strings, scuffs, or other marks.
Before you leave the house, print out several copies of your resume, cover letter, and a list of at least three references with up-to-date contact information. Have this information neatly organized in a folder or portfolio and ready to hand to the interviewer. They will likely already have copies of your resume on hand, but this shows how organized and prepared you are.
Arrive at least 15 minutes before the interview is scheduled. This shows that you are reliable and professional, and also gives you time to park and find the building or go through any security procedures. Showing up even a few minutes late for a job interview should be avoided at all costs. As you're heading in, turn your phone completely off and put it away in your briefcase, purse, or pocket.
So now you've made it and you're waiting in the lobby or reception area for your interviewer. All your preparation has led you to this big moment! Regardless of the outcome, you can feel confident that you have made the most out of this opportunity, and you may even make valuable professional connections that you can leverage in the future.